If you build it, they will come. At lest that's been the theory driving luxury apartment developers for the past few years. For a time that was true, as rental rates in almost every major coastal city (and the not so major ones too) skyrocketed.
Here are the metro areas with the fastest growing rents in the last year:
Seattle — 9.9 percent increase
Average rent: $2,052
Portland, Oregon — 8.2 percent increase
Average rent: $1,772
San Francisco — 6.2 percent increase
Average rent: $3,407
Sacramento, California — 5.6 percent increase
Average rent: $1,675
Denver — 5.1 percent increase
Average rent: $2,013
San Diego — 5 percent increase
Average rent: $2,424
Miami — 4.8 percent increase
Average rent: $1,887
Phoenix — 4.8 percent increase
Average rent: $1,298
Los Angeles — 4.7 percent increase
Average rent: $2,585
Suspiciously absent from that list? Washington DC, the city whose staggering rent growth led the luxury apartment boom. Zumper has some good data sets here, showing rents in the nation's capital falling over 3% YOY. It's a similar story in Chicago, San Francisco, and New York. Why the sudden decline after years of runaway growth and gnashing of the teeth about affordability and gentrification? Well, one, as Axl Rose wisely told us years ago, nothing lasts forever in the cold November rain, and two, according to this New York Times article, we're just running clean out of Millenials. Migration patterns tend to be complex and interconnected with job growth, economic development, and technology, but they're just that: patterns. A thing happens for a while, and then it kind of stops happening. What happened toward the middle and end of the great recession is that all the job growth was concentrated in a few places, in a few white collar jobs, and because the financing markets for development and construction had dried up, there weren't enough places for people who moved to these cities to live. So they all started competing with each other to live in nice new places that were transit accessible, driving the prices up substantially. A few smart people saw the rent increases and got together and decided it would be profitable to build new apartment buildings for these people and make them super fancy. By a few, I mean all of them. Check out this chart from Quartz to get a sense of the magnitude of how many of these new buildings are luxury buildings:
That's A LOT. It's the rough equivalent to 94 out of every 100 hotels being built in a city getting flagged as Ritz Carltons. Or for this market, let's say 94 Ace's, Kimptons, and Mondrians; and two Days Inns, two Radissons, and two Hyatts. Now let's apply that to a real world situation. Since I live and do business in Washington DC, let's just use that as an example. According to WDCEP, There are right around 7,054 units scheduled to deliver in DC in 2017. Using the 94% math, that's 6,630 luxury units. Are there 6,630 new luxury renters writing in the wings to spend $3-5/SF for their living space? No. DC had net immigration of 6,392 people in 2015. Not bad, but down significantly from 2010 and 2011, which both had net figures just shy of 10,000. (data here). And also, lower than 2014's 7,122 number. Let's assume even fewer people move to DC in 2017. For argument's sake, let's round down to 6,000. So even assuming 100% of new residents are luxury renters, that's a 1,054 unit overhang (we'll get into existing vacancy later). If you parse out the data, of 2015's 6,392 new Washingtonians, roughly 3,700 (56%) of them are foreign nationals. I'm guessing here, but my assumption is that a lot of often live with family and friends already in DC. Being generous, let's still assume a quarter of these foreign inmigrants really want a rooftop pool and a cool coffee shop. Using the 6,000 immigrant number, that's 840 luxury renters. Of the remaining 2,640 domestic migrants, let's just assume a 50% portion are going to take high end units. That'll fill 1,320 keys, right? Well, a number of these folks will live together, whether in a standard 2br, a group house in Petworth, or Ditto Residential's neat Oslo Projects . So let's say maybe 800 keys get filled. That means 6630 new apartments and (assuming my GIGO math is right) 1640 new renters. For arguments' sake, lets just assume an additional 360 Washingtonians get raises, divorces, or other life changes that make a luxury apartment a good choice. That's 2,000 heads for 6,630 new beds. That's 4,430 units that need a use. According to this morning's UrbanTurf,
"While job growth is strong and supply remains plentiful, the wave of new Millennial households that helped the region absorb a record 13,429 apartments in calendar year 2015 appears to be slowly subsiding," the report explains. "Between now and 2019, the vacancy rate likely will rise to nearly 5% as the level of deliveries remains elevated in the short term."
Overall, annual absorption in DC proper was down 25 percent compared to the year before.." Here's a cool chart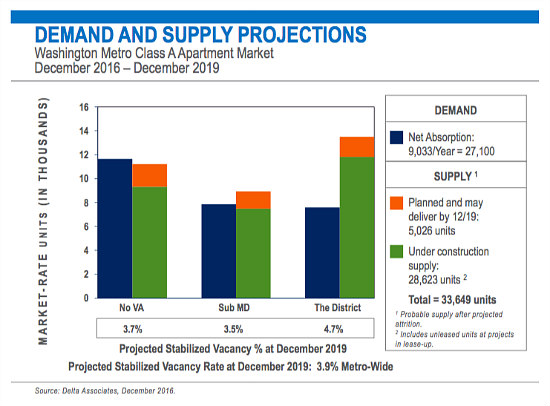 So what's to be done with these units? Well, you could lower the rent on all the units, (which is kind of happening, but certainly not to equilibrium) thus destroying the value of the project for the owner and developer. Not going to happen. The city could step in and create a ton of affordable housing for low income Washingtonians. Fat chance. Or a third option: Serviced Apartments.
While just getting their footing in the States, serviced apartments have a longer history in Europe, where intercountry migration is more robust than it is on this side of the pond. According to the catchily named ASAP (The Association of Serviced Apartment Professionals),
"Officially, 'Serviced Apartment' is the umbrella term for a type of furnished apartment available for short-term or long-term stays, which provides amenities, housekeeping and a range of services for guests and where most taxes and utilities are included within the rental price.
Serviced apartments offer facilities much like a traditional hotel but with added space, convenience and privacy like home, so you can enjoy living like a local when travelling. They have private cooking facilities, sometimes a kitchenette but sometimes a full-size kitchen with dishwasher and washing machine, larger living/sleeping areas than most standard rooms, and often having access to gyms, restaurants, meeting space, concierges and other hotel-like services."
Hmmm. Let's go down the checklist here. Added Space: While small, most new build apartment units are much larger than traditional hotel rooms. Check. They have kitchens. Check. They have big (relative to competitive hotels) bedrooms. Check. They're apartments, so they're sort of homey. Check. But the big kicker here is that a huge number of new apartment projects are actually designed after boutique hotels. They're named and branded. They're in areas that are convenient to employment centers and transit. They're amenitized to the hilt, often with pools, gyms, gathering spaces, and roof decks. And many of them are actually design-forward projects with finishes and public spaces that resemble the best of your Ian Schrager dreams. The lobby at the Hecht Warehouse in DC rivals the Delano for drama and inventiveness. Like many of these projects, it has been designed by name-brand architects to appeal to the sensibilities of millennial fighting for top dollar in a crowded space. Of course, they look and feel great. Check out some of the 2016 AIA winners here. Additionally, many projects are true mixed use buildings with retail (often F&B or convenience) on the first floor. Tired of cooking or have to use or lose your Per Diem? If you have a chef driven Tapas place on the first floor, you're good to go. Addicted to good coffee in the morning? The Anthology on H Street has a Starbucks and the Apollo across the Street has a Wydown. If you get bored during your stay you can always switch. A few projects have grocery stores anchoring the retail (City Market at O, The Louis, the aforementioned Apollo, and others come to mind).
So we have an excess inventory of apartments that look a lot like hotels, and despite the tidal wave of hotel rooms coming to DC, a dearth of hotel options for people staying more than a few days. You know what else we've got? Consumer behavior. AirBnB (and to a lesser degree, VRBO, Homeaway, and others) have made people much more comfortable with hospitality as a non-hotel experience. Technology advances have made booking, pricing and availability much more transparent, although most providers still operate relatively rudimentary systems which represent a huge opportunity. The explosion of the Boutique and Lifestyle hotel segment has also changed what people expect and want from their lodging in terms of design, feel, and amenities. Additionally, the way people work is changing. According to T.J. Spencer of Oakwood Worldwide:
"In addition to employment growth, which generates its own demand, a key factor driving demand for corporate housing includes an increase in short-term assignments. Companies are looking to plug skill gaps, secure cost containment, appeal to younger workers who want to broaden their experience and also respond to the increasingly connected global marketplace."
Do these factors apply in Washington D.C.? Between the churn created by the change of administrations and the recently announce Federal Hiring Freeze (with its associated uptick in contractors), coupled with the amount of NGO's, Lobbyists, and Contractors currently in DC, It's likely the number of heads for these beds will increase. If you're interested in strategies for going long on the Serviced Apartment Sector, please get in touch.